God Bless Pinterest
Posted on: April 19, 2017, by : Amy Morrison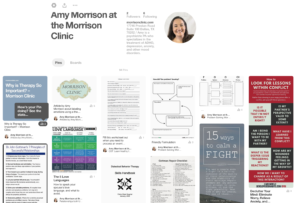 Ok guys I have to admit, I am a bit addicted to Pinterest. I'm not gonna lie, it can be a problem at times. I find myself going to Pinterest for that crock pot recipe I need for dinner tomorrow and 2 hours later I haven't even found the crock pot recipe… But I found great information about amazing ways to organize my closet, the best homemade fertilizer to grow the sweetest tomatoes, and I probably spent a few minutes giggling on my funny board. For a person who loves to be inspired, Pinterest is my home away from home.
Pinterest for Psychiatry
For the longest time I never considered using Pinterest for my work. Then one slow afternoon in the office I searched Pinterest for therapy worksheets. The results were profound and one pin led to another which led to another… It was a psychiatry and therapy lovers dream. This "aha" moment inspired hours of hyper-focused searches of Pinterest. I found a wealth of resources for myself and my patients. My boards on psychiatry, emotional health, wellness, and therapy will impress any Pinterest skeptic. Come check me out on Pinterest. Hopefully you will stay focused on them for more than a few minutes. But don't worry, I won't judge you for getting lost in recipes, home design, or whatever draws you in and inspires you.