Not Your Typical Dallas Psychiatric Clinic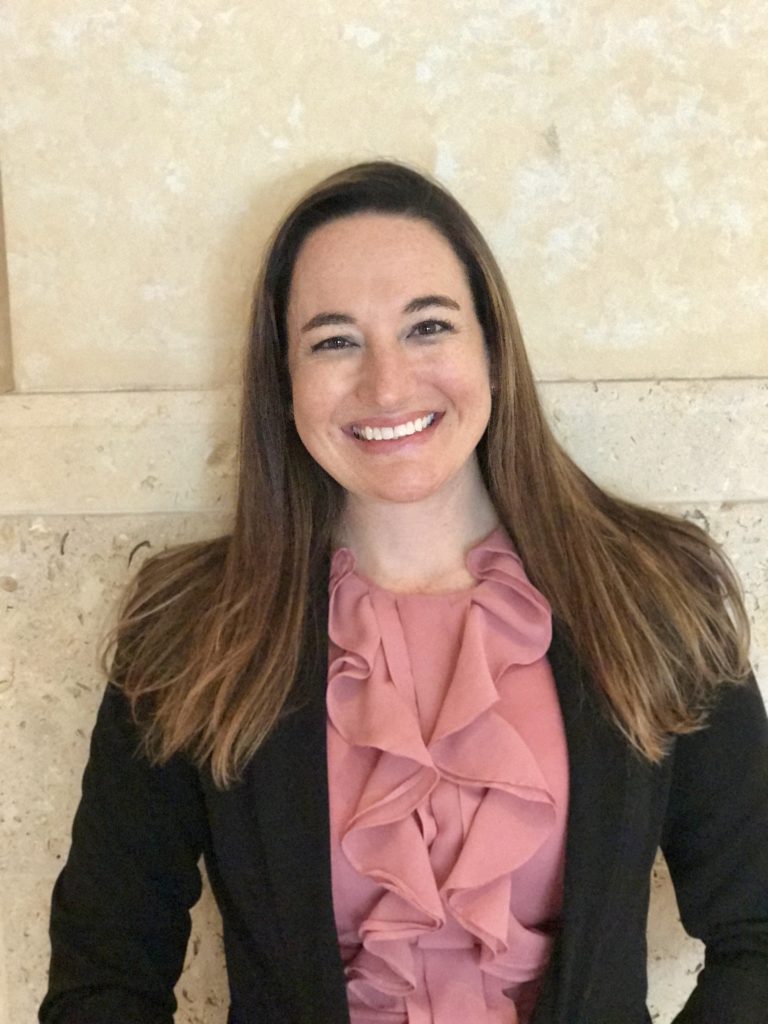 Our Mission
Our Dallas Psychiatric Clinic is a collaboration between Amy Morrison PA-C and her remote supervising physician.  Amy Morrison is a licensed Physician Assistant (PA) specializing in Psychiatry with over 19 years of clinical experience treating patients from Dallas, Plano, Frisco, and throughout the Dallas-Forth Worth area. Amy is not a doctor.  Her rigorous education as a PA laid the foundation for her extensive psychiatric medical training and experience gained while working alongside and under the supervision of exceptionally talented psychiatrists and neurologists in clinics across the Dallas-Fort Worth community for 13 years.   Amy thrived in the large collaborative care environment, and remains deeply grateful for the personal investment that her supervising physicians have made in her growth as a clinician.   She also felt overwhelmed by the demands of large clinical practice, where the unsustainable rise in systemic health care costs and shortage of psychiatrists in the community meant that clinicians are commonly expected to care for more than 25 patients daily.  Amy noticed how patients felt flustered and rushed as they were run through an inefficient assembly line of staff before and after seeing their provider.   She also noted how stressful this caseload was for both her and the other clinicians and recognized the signs of burnout in herself and her colleagues.
In 2017, Amy decided to make a change from the business model of the typical Dallas psychiatric clinic.  Data published in 2017 by the Texas Department of State Health Services Health Professions Resource Center illustrated that only 67% of patients who need the care of a psychiatrist are able to obtain it and Amy knew she could help fill this void by replacing the antiquated practice model where a PA's billing collections are divided in thirds between the PA, the administrative costs, and the onsite supervising MD.   Due to the shortage of physicians, Texas state laws no longer require on-site supervision of PAs by their supervising physician which decreased overhead costs.  Amy also felt certain she could reduce administrative overhead costs by embracing electronic medical records and practice management systems.  In doing so Amy was able to improve patient access to mental health care in Dallas and throughout Texas all while prioritizing the quality of psychiatric care that each individual receives.  By shifting the business to quality over quantity Amy felt she could provide better psychiatric care as it allowed more time to connect with each patient.   It is Amy's goal to provide thorough, personal, and detailed psychiatric care catered to the individual and with added benefit of a team approach that includes continuous supervision and collaboration with her supervising medical doctor.    
The psychiatric medical services that Amy provides are set forth by protocols established by her remote supervising physician who is licensed in the state of Texas.  These protocols define Amy's scope of practice based on her education, training, and clinical experience and delegate what medical tasks and services Amy is allowed to provide.  Texas state laws require continuous supervision which is easily achieved at Morrison Clinic with the use of electronic medical records for remote review of treatment plans, countersigning of orders, and chart note audits and reviews.  Amy and her supervising physician have monthly face to face or virtual supervision meetings and correspond throughout the week via portal messages, phone calls, virtual chats, emails, or text messaging.  As an extension of her supervising physician Amy is able to practice within the scope of training and experience which improves patient's access to care and decreases the burden of heavy caseloads on the local psychiatrists.  In fact, Amy garnered the attention of Local Profile which published an article by Linda Chism highlighting Morrison Clinic's unique practice model.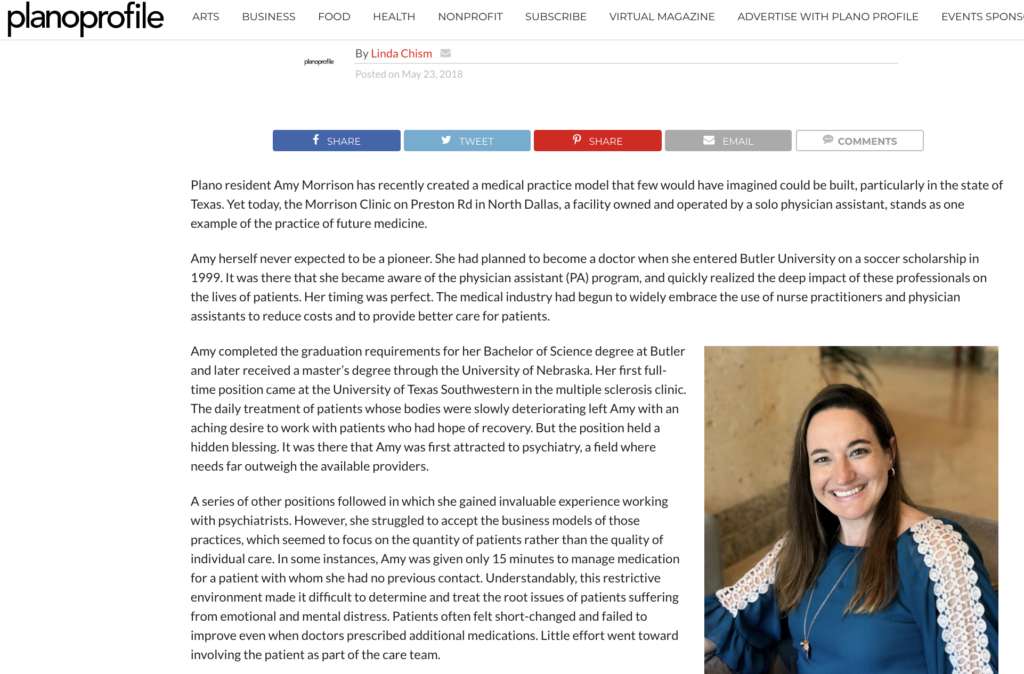 We Want You to Feel Empowered By Technology that Fits Your Busy Lifestyle

At the Dallas Psychiatric Clinic we recognize that your time is valuable.
As such, we decided to embrace technology.  We replaced the inefficient pen and paper medical model of the 80s.  We have streamlined  our work flow with state of the art electronic medical records.  This new technology allows the clinician to focus on providing excellent and compassionate patient care.  Amy Morrison's philosophy is that embracing technology  delivers more efficient healthcare which allows her to spend more time with each patient.  This valuable time gives her the opportunity to listen well and fully understand each client's unique situation.  Building good relationships with her clients ensures she will be better capable of meeting their needs.  
At the Dallas Psychiatric Clinic we provide fast and reliable access to care.
The Morrison Clinic online patient portal caters to the client's busy lifestyle.  Our portal allows rapid scheduling of appointments and a secure messaging system.  Patients can send messages directly to their medical provider at anytime day or night.  Our medical providers typically respond to messages by the next business day.  Furthermore, clients can login to their portal and have direct access to instructions or handouts discussed during their important.   Additionally, the Morrison Clinic also offers an online billing portal which affords clients easy and direct access to their billing records and receipts.
Established Patients Click to Schedule
If you have any questions that are not answered on our FAQ page, please call 972-656-9532 or email officeassistant@morrisonclinic.com.  We will respond to your question at the first available opportunity.
Click here to learn more about Amy Morrison's care philosophy.