TEXAS TELEPSYCHIATRY APPOINTMENTS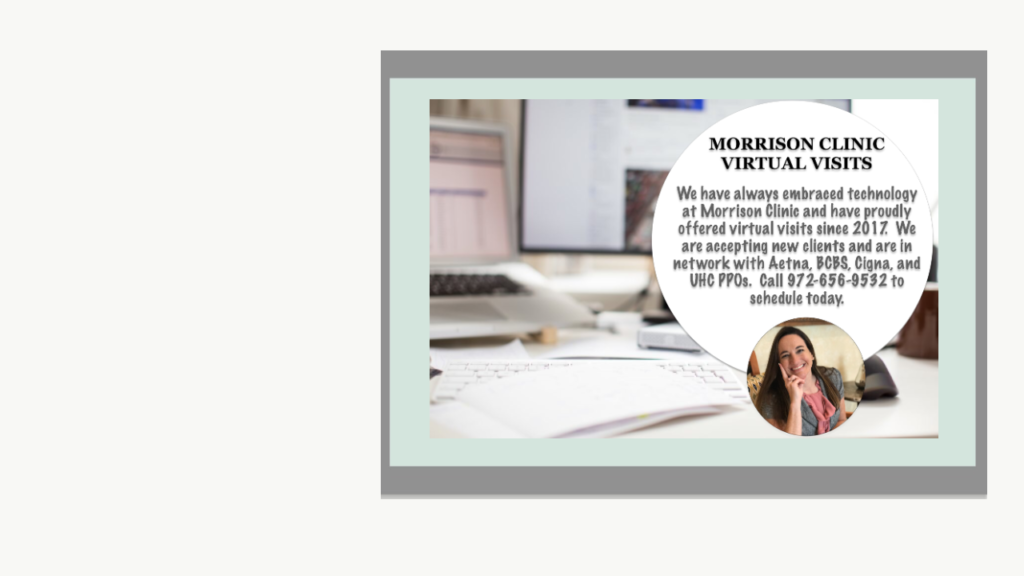 TEXAS VIRTUAL TELEPSYCHIATRY APPOINTMENTS FOR THE TREATMENT OF ADHD, DEPRESSION, AND ANXIETY
Since 2017 our Texas office has offered telepsychiatry appointments. As such, we have perfected a virtual system that allows for detailed assessments and high quality care. We offer telepsychiatry for new and established patients for the treatment of ADHD, depression, and other psychiatric disorders. Morrison Clinic Psychiatry takes pride in bridging a gap in care for many Texans and making it easier to start psychiatric treatment and attend subsequent appointments.
Morrison Clinic virtual appointments are simple and easy. Our 2 step process is a breeze. Make sure to start the steps 20 minutes prior to your telepsychiatry appointment. Use the buttons below to ensure you complete each step.
STEPS
2: Lobby Check-In Form & Doxy Virtual Waiting Room
WRITTEN INSTRUCTIONS FOR YOUR VIRTUAL TELEPSYCHIATRY APPOINTMENTS
1. First, your Pre-Call device check. This button takes you to a testing page to complete tests to ensure your device is optimized for your telepsychiatry appointment.
Verify your telepsychiatry appointment platform is working by checking your camera, microphone, and browser compatibility. It is important to verify you can connect to the server AND that your internet connection provides good or excellent video quality. If your connection is poor or fair use an ethernet cable or try moving closer to your router.
2. Second, the Online Lobby Form.
Like the clipboard form you receive at your face to face appointments, this form gathers important medical information. You input your vital signs, medication side effects, symptoms,etc and submit it electronically and upon submission you will be automatic directed to check in to our virtual lobby.
3. Third, entering the Virtual Appointment Lobby. Upon submission of your lobby check in form you will be automatically directed to, Doxy, our online virtual lobby. You will wait for your clinician to join your virtual telepsychiatry video call.