Coronavirus FAQ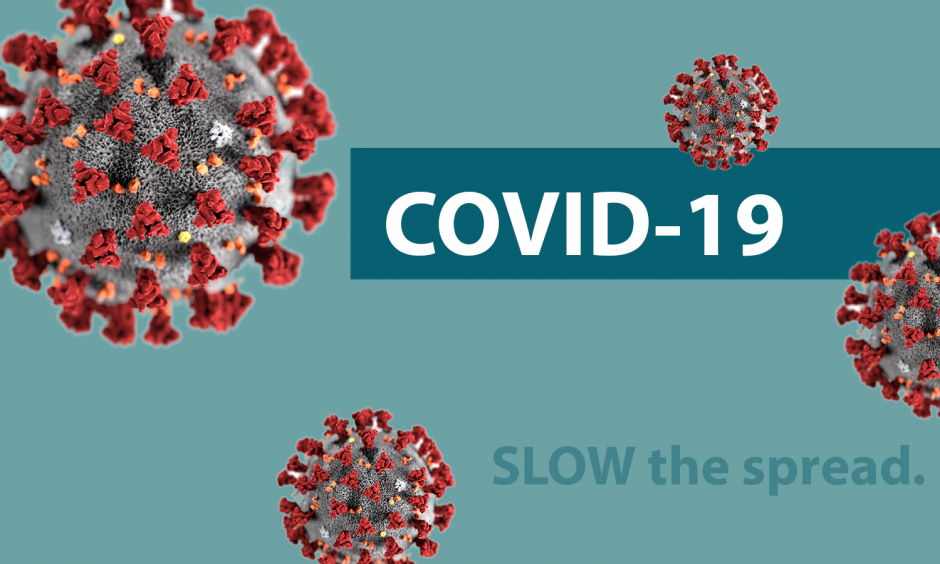 Hello patients, friends, colleagues, and family. I hope you all are happy, healthy, and taking each day at a time as we face this very stressful Covid-19 outbreak. I've been getting a lot of questions from friends, families, and patients about Covid-19. I've spent quite some time researching the spread of the virus, the effectiveness of various government responses, testing needs, social isolation, and medical treatment for the virus. I've compiled a list of frequently asked questions and hope you find them helpful. By no means am I an expert in infectious diseases. My experise lies in psychiatry with a broad education in general medicine since I am a PA. If my recommendations are contrary to the recommendations of your medical provider then follow the guidance and direction of your general medical provider.
BESIDES SOCIAL ISOLATION AND HAND WASHING WHAT CAN I DO TO PREVENT A SEVERE INFECTION OF CORONAVIRUS
–If you have diabetes get your blood sugar under excellent control.
–Continue to see your medical provider for virtual or telephone visits and keep chronic diseases well managed. Governor Abbott issued an emergency rule that all insurance plans that are regulated by the Texas Department of Insurance must pay providers the same amount for a virtual or telephone appointment as they would for a face to face office visit. If TDI is written on the front or back of your insurance card then you should be covered.
— USE AS MANY OF THE BELOW SCIENTIFICALLY PROVEN METHODS TO DECREASE INFLAMMATION IN YOUR BODY WHICH WILL BOOST YOUR IMMUNE SYSTEM
—–Get 8 hours of sleep a night. Considering you are no longer juggling soccer practices, gym workouts, violin lessons, and shopping you can no longer hide behind the excuse of not having enough time to get your 8 hours of sleep.
—–Eat clean healthy foods and avoid processed foods. Do your best considering our current food shortages and limitations. Frozen veggies and fruits tend to have minimal processing.
—–Exercise (at a distance). Remove the clothes hanging from your treadmill and walk as you binge watch Netflix, dust off your bicycle for a ride around the block, or go for a brisk walk around the neighborhood.
—–Meditate daily. My favorite meditation apps are Meditation Studio and Headspace. There are several free apps available.
—–Socialize (at a distance). Schedule and allot time for virtual chats with your friends and family. While it is not the same as face to face virtual videos provide a much better connection than traditional phone calls. If you normally go to Taco Tuesday with your work buddy then FaceTime every Tuesday night to catch up.
If you want more information about why these lifestyle changes improve your immune response and how to implement them in your daily life, click here for free wellness program booklets.
WHO SHOULD I SEE FOR COVID-19 MEDICAL CARE AND HOW DO I GET TESTED FOR CORONAVIRUS?
If it is determined that you meet the CDC's criteria for getting tested with coronavirus than Medical City is offering free Covid-19 virtual visits and they will refer you to a testing location. Tests are being dispersed to community clinics, hosptials, and urgent cares. There are locations for drive through testing as well. During your virtual visit they will try to help you determine the best testing locations to fit your needs. Remember, by doing a virtual visit you can reduce the risk of exposing your health care provider and other patients to this highly infectious virus.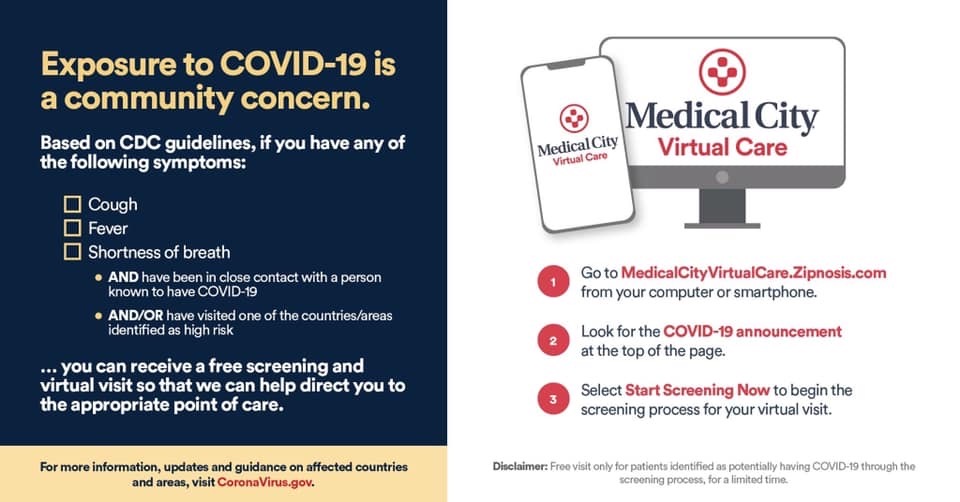 MY NEW CO-WORKERS (AHEM MY CHILDREN) ARE DRIVING ME NUTS AND I CAN'T KEEP UP WITH HOMESCHOOLING DO YOU HAVE ANY SUGGESTIONS?
I have found this free template from Khan academy to be very helpful as I homeschool my children while working. I plan to modify the template once their schools post assignments. This template helps give structure to the day, can be copied and pasted into the note sections of iPads or a word document, and once your school starts posting assignments you can modify the template and add links to assignments they need to complete.
HOW LONG DO YOU THINK THE KIDS WILL BE KEPT HOME FROM SCHOOL?
My best guess is a minimum of 8 weeks, but I am planning for my kids to not go back to school this semester. Halfway through Spring Break it became evident to me that we had to keep kids away from each other to control spread in the community so I got battle ready for homeschooling. I did an online IKEA order and paid the extra $5 to have it ready for me for pick up. The desks I chose were easily assembled and fit into the home office so that each kid was on opposite sides of the room and not facing each other. They loved their new desks and spaces and settled in and felt at home despite the stress of the changes. I got their electronic devices to work with parental controls and after a few days of going over the schedule with the kids we had worked out most of the kinks. I also talked to the kids about the importance of team work and how I need them to be responsible and work hard without me having to direct them so that I don't get stressed out and overwhelmed. In the spirit of teamwork, my daughter's teddy bear, Ted, even chipped in to help with grading and teaching.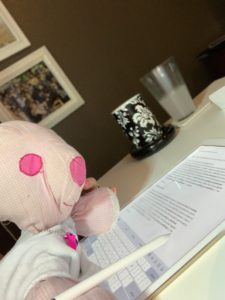 WHAT CHANGED IN THE EMERGENCY MANDATE ISSUED BY GOVERNOR ABBOTT REGARDING TELE-MEDICINE?
ACCORDING TO THE TEXAS MEDICAL BOARD https://www.texmed.org/Telemedicine/
(1) Insurers to Cover Visits : Doctors will be eligible for payment from insurance plans regulated by the Texas Department of Insurance for medical visits they conduct virtually or over the phone instead of in-person at the same rate they would receive for in-person visits. Included plans will have "TDI" or "DOI" written on the front or back of a patient's insurance card.
(2) HIPAA Restrictions Suspended: Effective immediately, the U.S. Health and Human Services (HHS) Office for Civil Rights will not penalize physicians for noncompliance with HIPAA when they serve patients in good faith through common, nonpublic-facing communications technologies, such as FaceTime or Skype.
(3) Medicare Telehealth Expands: The Centers for Medicare & Medicaid Services (CMS) has temporarily broadened telehealth access to Medicare patients. Medicare can pay for office visits furnished via telehealth in all areas of the country (not only rural areas) and in any setting, including in a patient's home. Physicians may reduce or waive cost-sharing for telehealth visits paid by federal health care programs.
For more information, links to checklist for setting up tele-medicine, and other resources click here.